My First Block and Some Block-Setting Ideas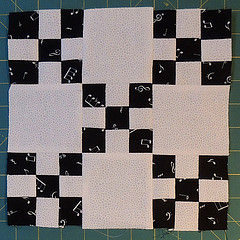 My quilty plans for the day dramatically changed when my computer frozen then crashed and I went to bed with my iPad researching what to do next … instead of making more January blocks. Here is my first.
Obviously, I was able to get my computer back on it's feet, so to speak, which allowed me to follow-up with yesterday's winners, post the January block, recap December and update the At-a-Glance page.
FYI, I've heard from 4 of the 6 winners … and I'll be ready to send out the mailing info to everyone who made blocks in December as soon as Dena and Sharon check in.
So … while I was spending (too much) time sorting things out on my computer and bringing it back to health, I played with some setting ideas for this month's blocks.  I often add black and white fabrics to my quilts and I feel like these blocks will be great to combine with other colors and other blocks–either in a small, controlled way, or maybe more … I think there are a lot of possibilities for these blocks, but here are a couple.
The top two sketches show the blocks in a straight set (no sashing) with alternate blocks–one plain and one Schoolhouse block (like the ones we made a couple years ago). I imagine pretty quilted feather wreaths in those plain squares, but they would also be fun with redwork embroidery, wouldn't they?
The bottom two show the blocks with 3 inch sashing and 3 inch 9-patches as cornerstones. Using a contrasting color for the sashing will change the overall color of the quilt. In the bottom quilt on the left, I also switched the dark/light position in the 9-patches used as cornerstones.