I had the best intentions … and a reminder
First the reminder – the drawing happens in approximately an hour from now.
Now the best intentions excuses.
I was really looking forward to producing a menagerie of blocks, inspired by the animals that have passed through my life: a pair of parakeets, three dogs, a couple of lizards and five cats … I am sure there were some fish, too.   But life happened.  My disastrous move happened.  My excitement, then disappointment of a possible job (and not getting an offer) happened.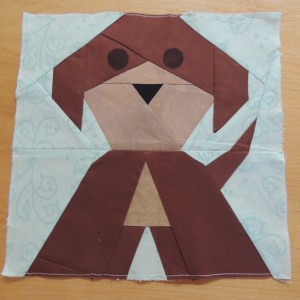 I had a list of patterns (and pattern ideas) I wanted to try this month.  One was this cute puppy, seen on the blog, Tommy The Material Girl.  You can see the quilt she made from this block here. I left a comment asking for the source and she kindly sent it to me, along with this block. I'm adding it to the donated chances list.  Thanks, Tommy.