July Winners Are …
This month, we made a total of 68 blocks, which felt like too many for one person, so the set size will be a little smaller and we have two winners, who will each receive 34 blocks.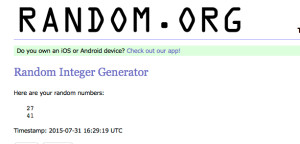 Random.Org generated the two lucky numbers 27 and 41, which translate to:
Maree
Peggy
Congratulations, Ladies!  Look for email from me today to confirm your mailing addresses and ask how many of your own blocks you'd like to keep.