Snake and a story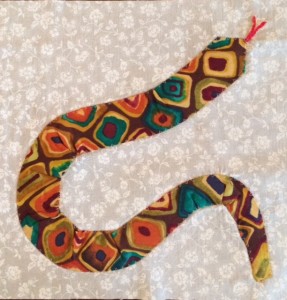 Here's a fabric version of an 8-ft-long corn snake my family owned for about 4 years. We thought of him as a pet, so I'm throwing him into the mix.
There's a funny story associated with the snake. It had been owned by my brother Lawrence, who's a naturalist, and when I flew out to St. Louis some years ago to visit him and his family with my 3 sons, one of them really fell in love with the snake. So my brother gave it to him, and when we left, packed him in a plastic box with air holes in it. We packed it in one of our suitcases and checked it. Quietly.
When we got to NYC we were picked up at the baggage area by a prearranged cab driver. My boys were so excited to see if the snake had lived through the trip they got the suitcase off the carousel and opened it up to see the snake. The driver got so upset that he didn't want to take us home, but we put him back and closed it up and eventually we convinced him.
We kept the snake for a few years. He was very tame at the beginning, but grew more wild over time. Maybe because my two cats would sit outside his cage and watch him. Anyway, after he bit me for the 3rd time while I was trying to feed him (thawed frozen mice) I decided to get rid of him.
My brother said he would take the snake back, so I packed it in the original box, put lots of padding around it and shipped it by UPS as "fragile artwork." He arrived save and sound.
Since the snake was so big, and very handsome, my brother donated it as a door prize at an reptile convention and someone took it home. That's all I know.