And the Tulip Bouquets Go To …
We ended the month with 122 Tulip blocks (and 14 more of the color rule-breaking variety).
Thanks to Mr. Random.Org for his help in selecting the winners.
And they are:
Corinne (41 blocks)
Laura (41 blocks)
Sue K (40 blocks)
As it turns out, 41 is a magic number if you plan to put your blocks on point–it's the number of blocks you need for a 5 by 5 arrangement. Maybe that means these blocks are meant to be set that way … though, of course, the decision is total up to you.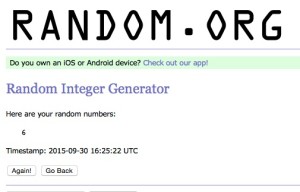 Now for those 14 maverick blocks … the winner is:
Rachel (14 blocks)
This is also a nice number for an on-point setting because 13 blocks is the number you need for a 3 by 3 arrangement.
As a point of reference, the scrappy quilt top I put together using this block pattern is made from 25 blocks in a 4 by 4 setting.
Congratulations to you all.  I will be sending out email to all four winners confirm mailing addresses and asking how many of your own blocks you'd like to keep.
The mailing info will go out in two separate email messages – one for the regular lotto and the other for the rule-breakers.