Strippy, my first 2 blocks for Dec. 2015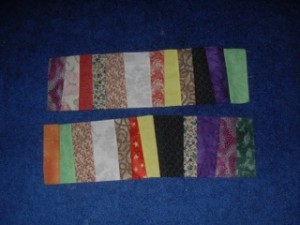 Here are my first 2 blocks for Dec.  Sophie I did send them before the virtual quilt was posted but I did not recognize any of the blocks as mine.
Maybe it didn't get to you on time.  Thought I had better post these for the draw.  Fun to do.  I do have a couple more done and will try to get a photo of
them done to enter them into the draw as well.  I like all the different ways these can be used.  Easy to use scraps up this way.
Merry Christmas to everyone.
:)Carol McNab