With No Further Delay – the December Winners
I'm sorry for the delay in the December drawing (and posting the January block).  Chalk it up to life's challenges (mine) and please forgive me.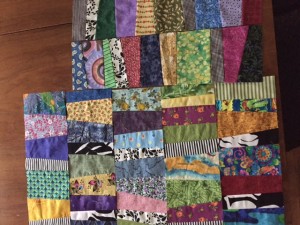 Before I can post the winners, I have to share newbie Teresa's blocks.
She emailed me this photo yesterday when she was having problems logging into her new account.
Teresa, don't forget you still owe me your mailing address … keep reading to see why it's very important …
After I added in all the blocks posted in the last few days, we had a total of 194 Wonky strips–enough for FOUR winners.
With the help of Mr. Random.Org, four winners were randomly chosen and they are:
Myrna – 50 Blocks
Marianne – 48 Blocks
Julie P – 48 Blocks
Teresa – 48 Blocks
Congratulations to the winners!  Expect email from me later today … after I have finished the January block directions and posted the pattern and guidelines.