Pressing Matters … Q & A and Tips for Making Violets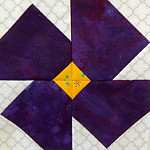 A couple people have asked me about the acceptability of not-quite-matched seams in the center of the block.
As always, I hope everyone STRIVES to make well-made lotto blocks, while appreciating that the intention of the Block Lotto is to remain–now and always–a beginner friendly activity.
The violet block is a great example of how much pressing your seams will help you make better blocks. All the seams around the centers of my blocks aren't perfectly matched, but they are all pretty darn close … and no pins were used in putting them together, but I did PRESS the seams as I sewed them.  Here are a couple of my blocks, as seen from the back. (They could be pressed flatter, but you can, I think, get the idea).
The block on the left has the background seams pressed toward the Flower fabric; the one on the right has them pressed toward the Background–both ways work.  The really important seam are the ones after you add the small center squares. If you alternate the direction you press them, then when you are sewing the four petal units together to form the Violet block, those seams snug into one another nicely (and for me, eliminated the need for pins.)
Another tip/reminder from one of the sneak seekers was to MARK those diagonal lines (and not just eyeball your way from corner to corner). If you don't want to mark up your fabrics, you can also fold the background squares diagonally in half and press a creased line to use as your sewing line. This will also ensure that your seams will line up in the center, because you have made sure they are precisely marked and stitched.
If you have made the blocks and have any tips to share, please add them in the comments.