QAL Samplers and Other Updates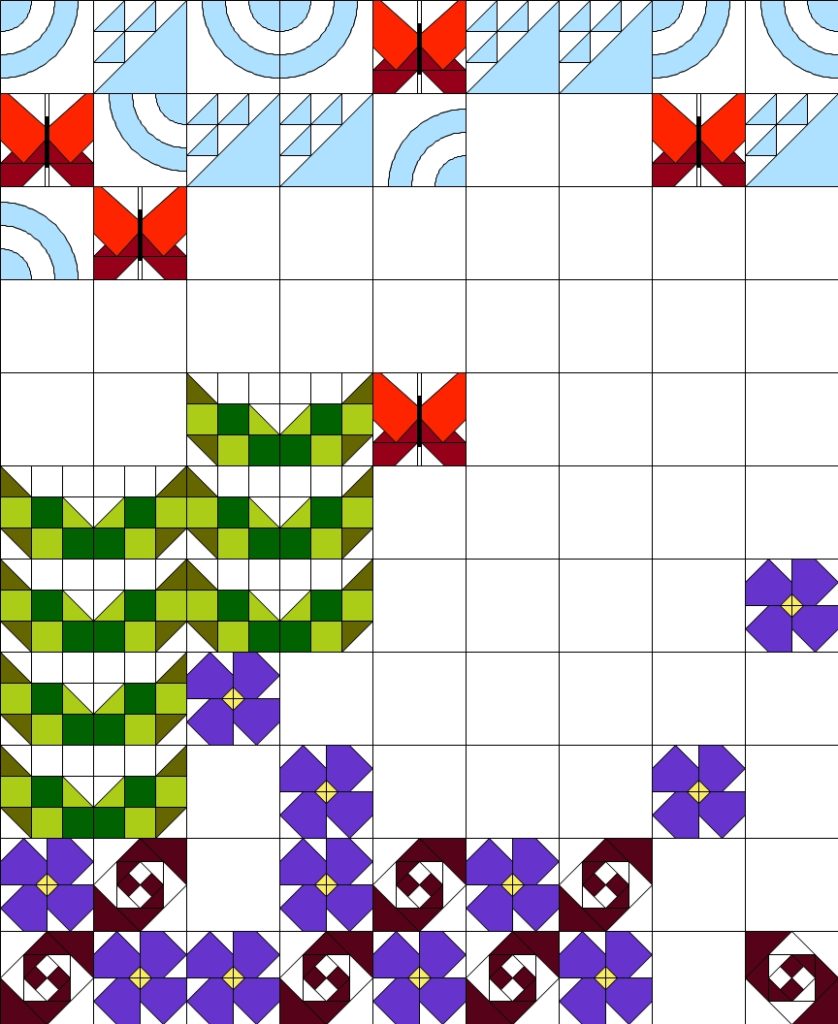 If you are making blocks for Old MacDonald's Mystery Sampler (#OMMS), you probably noticed I neglected to mention yesterday how many blocks you'll need this month … and a few of you were quick to ask me about it–which is a good thing, I think,  because it means you're invested in playing along 😉
I have updated the June 1 post with that information and also updated the 2016 QAL page.
I confess that I am playing catch-up a little with the blocks for my own quilt (and loved seeing the work-in-progress design walls of yours last month) … but, here's the layout so far, showing 52 of the 99 blocks in this quilt, which puts us past the halfway mark on this one.
I am a bit more current with my other sampler.  All the lotto blocks are made, so I am officially half-way on that one … though I need to spend more time combing through my scraps and stash to cut more of the scrappy setting rectangles.
Here are my blocks, each set of 4 sewn together to form a 12 inch (finished size) unit.
I plan to share an updated photo of this one later this month, with at least half of the setting rectangles in place to give those that might be thinking of jumping in and catching up a better idea of how it will look.
While I was updating yesterday's post with the sampler info, I also added some more block photos to the virtual quilt.  Some months I am more organized than others when it comes to saving the photo from your email messages as they arrive … this time, not so much and when I went back to find all the messages I thought I had tagged, I missed a couple–from Debbie and Maree.  If I missed anyone else's blocks, let me know and I'll add them–I think the more the better in this virtual quilt–and please know that no one was excluded because I didn't like their blocks or found something wrong with them (unless I emailed you about your fabric choice).
Here's how it looks now in a 5 by 6 arrangement of 30 blocks: