Where Did August Go?
Actually, what has happened to this whole year? 2016 has just flown by. I will only have this one entry into the drawing for September. The dark areas in the red fabric are a very dark red, not black. I checked the colors in the selvedge before using.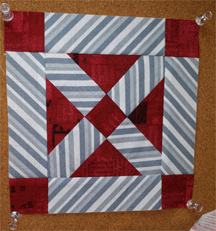 I have already mailed the Split 9 Patch I made in August and managed to make 4 Barn Doors for my Sampler.  Gee, that sounds so organized; if only the rest of my days were so tidy.