Krista's Tic-Tac-Toe quilts
It's taken a while, but I have finished 2 more quilts, which means that every tic-tac-toe block I won last year has now made its way into a quilt.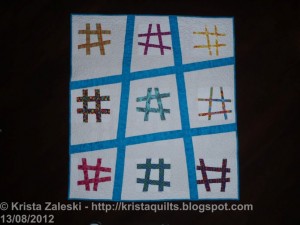 First, is my wacky setting, for the wacky blocks.  I added scrappy white sashing around/between each block to make a big square, and then cut it just like we did the small blocks originally, and added the blue sashing.  The back was pieced with the rest of the blue, and 6 more blocks.
Blocks came from Trudi, Linnea, Kate, Dianah, Laura, Kathie, Michelle, Carrie and Brooke.
The second quilt is a simple sashed setting.  I really liked the look of the six blocks on the back of the blue, so I made the final quilt in that style.  Not enough green for dark borders, so I went with white for the outer border in that case.  The backing of this one is polar fleece, and the quilt is soooo soft and light because of it.
Blocks in this quilt were made by Mary Jane, Dianah, Carrie, Michelle, Linnea, Sophie, Brooke, Kathie, Laura, and myself.