Sophie's first two blocks
Michelle and I share a birthday and weirdly, today we both made flower blocks with 2 blooms and a Y stem.
The block on the right is my original block (from the directions) in which I changed the bloom because the proportions were bugging me.
I used an appliqué technique learned from Pat Campbell in a cold January workshop in Michigan, long, long ago.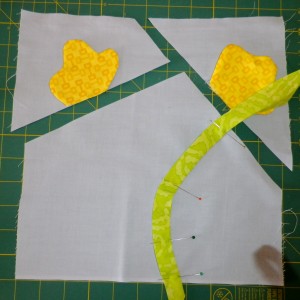 To begin, I made the diagonal slashes which defined my bloom placement.
I cut green bias which was 1 1/2 inches wide and folded it in half (long-wise).
Then I placed it on the block, making sure the stem curved, with cut edges on the OUTSIDE of the curve.
I used my quarter inch foot to sew the folded bias to the background.
You don't have to trim the seam allowance because the 1/2 inch wide stem will cover the 1/4 inch seam allowance, but if you were using this technique for a skinnier stem or vine, you'd want to do that.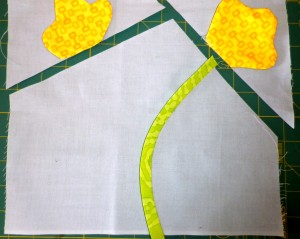 Press the stem, folding the stem over the seam and seam allowance. Because you cut the stem from bias, it will do all the necessary bending and stretching to become perfectly flat.
Stitch down the free edge.
I decided that I needed some of that meditative hand stitching this morning, so I hand appliqued mine down, but you can use a machine blind stitch or even a neat straight stitch in a matching color thread along the folded edge.
BUT first …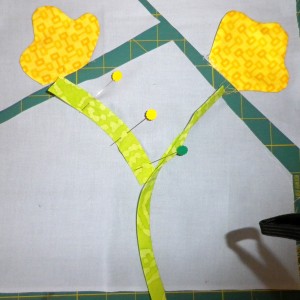 I added the "branch, " using the same technique, before stitching down the stem.
The bottom of the branch is tucked under the first stem.
Again, you want to place the raw edges of the folded bias on the outside of the curve, stitch it down, trim if desired and press the branch so that it covers the seam and seam allowance.
THEN, stitch it all down.
The rest of the block is made exactly the same as described in the pattern: sew the diagonal seams, including the bottom of the blooms in the seams; add the leaves; trim the block to 9 1/2 inches square.