More Flowers on the Way to Rachel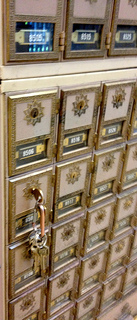 I am back from the post office to pick up some goodies and to send my three flower blocks on their way to El Paso, Texas.  I'm thinking I may be one of the geographically closest to our September winner and it should only take a day or two to arrive.
I hope you enjoy them, Rachel.
I mentioned in a comment that I was thinking of combining this month's block with some log cabin blocks (like those we made in August, 2009).  In the meantime, they seemed a good fit for another project on my list …
I made some larger (12″) blocks in white + (mostly) floral prints.  They will become pillow covers for some large square bed pillows.
In this arrangement, I think the star blocks are a little bit lost and the secondary pattern dominates, but I still like how it turned out.
I started with 8 prints and used the no-waste method for the flying geese units, using half in each pillow top. After a little bit of math to figure out how many of each size square I needed and a bit of chain sewing, I'm ready to layer and quilt these.