split stars are a top…..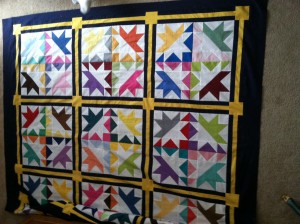 It is a dark and gloomy day here. So this isn't the best of pictures, but you get the idea.
This quilt is for a very good friend of ours. He was so excited about the quilt, he went shopping all on his own to pick out the sashing/border fabrics. He was in the Navy during the Vietnam War, and is a big fan of the St. Louis Rams. He thought these colors would be perfect. I was going to add a little more to the top and bottom so it would be longer. But when he saw it this morning….he said that it looked just right and we called it finished. When it gets back from the quilter, I will get a better picture.