Weekend Update – Worldwide Quilting Day Edition
The weekend is here–time to share a link from your blog.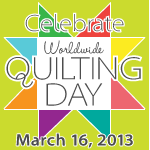 World-wide Quilting Day is tomorrow … which makes me think every quilter has something to blog about and share.
How will you spend the day? Have you blogged about your plans or will you blog about your day?
Please share your quilting day or another slice-of-life from your blog with us.