Weekend Update May 31-June 3
Wow.  May really came and went quickly … and when the weekend officially arrives on Saturday, it will be June.
My weekend plan is to do some spring cleaning and re-arranging in the studio.  How about you?  Please share a link using the linky tool below.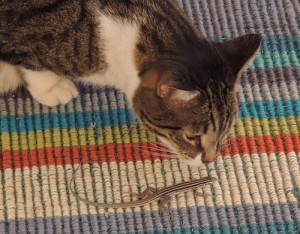 I'm hoping that I don't encounter any more of the cats' new friends.  I think this little New Mexico whiptail lizard followed me into the house Wednesday.  Johnny discovered him in the studio and proceeded to carry him around and play with him throughout the house.  (I'm grateful that they didn't go upstairs).
Without Johnny "playing" with him and wearing him out, I don't think I'd ever have captured him and been able to put him back outside.  You can read more about our  adventure on my blog, here:
Reminders
While I have your attention … remember the deadline to post your flying geese blocks is noon (US East coast time) today and that June's block will be posted on Saturday, June 1.