In July, A Neighborhood Party of I-Spy Houses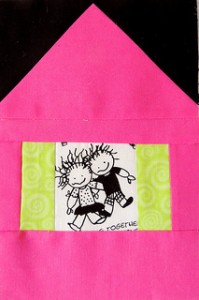 In July, we'll be using a basic house shape as a frame for I-Spy images to create a row of houses with interesting occupants and other items.
This 6-inch by 9-inch (finished size) simple house block is a simple house outline with fussy cut fabrics used for door and/or window(s).
Directions for the basic approach are here:
Block Guidelines
All our blocks should have the following characteristics:
The block is 6 ½ by 9 ½ inches (to finish at 6 by 9 inches when sewn into a project)
The house is between 6 and 9 inches tall (finished size).
The bottom of the house is at the bottom of the block (no "yards" or "walks" added)
The top of the house is the same shape as a 3 x 6 inch Flying Geese unit (though it doesn't have to be created as a separate FG unit.
Each house must contain one ore more I-spy elements, which appear as door and or window(s) in the house.
I-spy elements may be pieced or appliquéd.  If you use appliqué, all edges must be turned under and sewn by hand or machine.
The outside edges of the house block should be house fabric (no I-spy fabrics up against the edges) … the cowgirl's house below comes dangerously close to breaking this last rule.
Here are some blocks made so far, by Angie and me.
Fabric Guidelines:
Each block is made from three or more fabrics:
SKY-Black fabric – may be solid or a black-on-black (BOB) print.
HOUSE–For each block, the house fabric you use should be unique. The fabric you use is quilter's choice but let's avoid anything dull or neutral  for a light, bright neighborhood.
I-SPY/Novelties – For doors and windows.  Fussy cut them to put people and things inside your house.
If you make multiple blocks, you may use the same black fabric for all your blocks and you may cut different occupants (for different blocks) from the same I-spy fabric.  Each house fabric should be unique.
Entering Multiple Blocks
The maximum number of blocks you can enter for chances in the drawing is the usual nine.
Tags & Categories
This month, use the tag I-Spy House.

As usual, please choose the category blocks for posts containing photos of your blocks, sent and received for messages about blocks mailed and received and show and tell for photos of your projects made using this block.