Split star quilt finished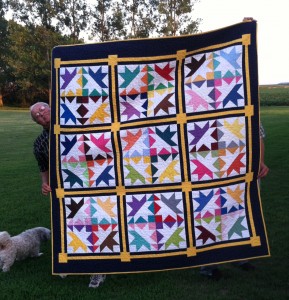 These are the blocks I won during the Split Star month last year. That is our friend Dave sticking out from behind it. He is the owner of this quilt. He gets it because I had no white fabric when these were made. He was out shopping and brought me some. I promised that if I won, the quilt was his.
And wouldn't you know, I won. He loves this quilt. He loves that the blocks were made by quilters from all over. It was supposed to be for his bed. It is too special now. It will be hung up on his living room wall instead. NO NO I said, use it on your bed! Nope, he wants it on the wall.
This is the back. I don't know how to fix that it is sideways. He was in the Navy during Vietman.