Let's Blog About Tools and Gadgets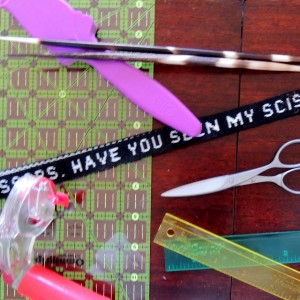 I recently took a pair of scissors, along with some kitchen knives, to the knife-sharpener at the Farmer's market. While I waited for him to sharpen my tools, I started thinking about how long I've owned that little pair of Dovo scissors and how they have become one of the tried-and-true quilting tools.
Here's a photo of some of the things I couldn't imagine quilting without … and one gadget that seemed like a good idea, but that I never use.
For our October Linky Party, let's blog about tools and gadgets–the ones we love, the ones we bought on a lark and never use, the ones that surprised us because they became so useful.  I've owned the large African porcupine quills in my photo a long time–longer than I've been a quilter.  Originally purchased to use to manipulate ribbon (when making flowers and other trims for hats), it is also works well to hold fabrics in place and guide them through the machine when I don't have enough room for fingers.
If you blog about tools or gadgets during the month of October, please use the Linky tool below to add your post to the "party."