A Quick Quilt Idea – Simple Medallion
I have been thinking about making a small quilt using this month's basket block, but filling and/or adding to the baskets … and that's how this little idea began.
If you've been around long enough, you might remember this little pillow project, using our liberated basket block.  I quilted in some leafy vines coming out of the baskets and added lots and lots of yo yos.  At the time, one of my goals was to use up pink scraps.  The other was to cover an ugly pillow that was a favorite of one of my cats.
I want to do something similarly small and relatively quick and play around with ideas for "filling" the banded basket blocks.
I decided on small holiday  table topper and came up with this basic layout idea for a 30-inch square … which I quickly realized would work for ANY of this year's 6 by 9-inch blocks.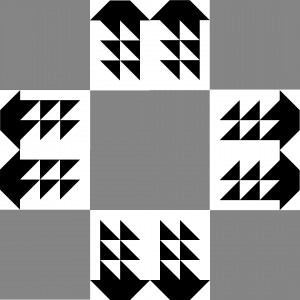 I drew this quick diagram using the Tall Ship block.
The corner squares are 9 inches, the center square is 12 inches. Those could be fabric squares or quilt blocks.  For my holiday baskets, I am thinking of making pineapple blocks.
Another idea for some quickly pieced blocks for the corners and center would be 9-inch 9-patches (made from squares cut 3 1/2-inches) and a 12-inch 16-patch for the center using the same 3 1/2inch squares.
My dining table is quite small, so I will probably stop here, quilt it, bind it and call it done.  To make it fit a larger table (or make it appropriately sized  for a baby quilt), a couple borders–plain or pieced–would finish it nicely.
I thought this would also make a nice center for a medallion style quilt.  If you started here, you could put it on point and/or just add rounds to make a larger quilt.
This would also make a quick tree skirt with a hole cut in the center and an edge cut diagonally from the hole to the edge–how about some holiday themed I-spy houses around your Christmas tree? Or some oak leaf blocks with some 6 inch traditional Maple leaf blocks used to fill the squares?
I'm just thinking out loud … but I liked this idea enough to share 😉
What do you think?