January 2014 Recap – Double Chevron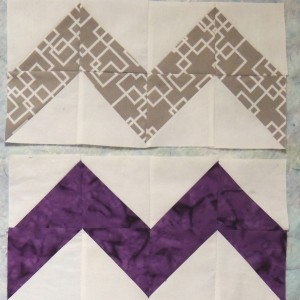 The block for January was a 7-inch by 14-inch (finished size) Double Chevron block, made from 2 fabrics, white plus a purple, gray or brown of the quilter's choice.
We made a total of 256 blocks which were won by 7 lucky quilters: Madison, Jude, Marie, Karen, Peggy, Shelley and Kate.
Guidelines for the January 2014 Block Lotto are here:
2014 Begins with Double Chevrons
The maximum number of blocks you can make and enter for chances in the drawing this month is SIX.
This Month's Tag
Tag for ALL blog posts about this month's block: chevron

Monthly Topic for Block Lotto Linky Party
Let's Blog About Quilting Goals
Quilt-Along Info for this Month
Total Chevron Blocks: 256
Blocks entered into Drawing:
Andrew – 1
Barbara S. – 1
Belinda – 6
Caroline – 6
Cathy L – 6
Céline – 6
Charlene – 2
Cyndi – 5
Debbie – 6
Debra – 6
Dena – 3 ***NEW***
Elizabeth – 6
Erin – 5
Gail – 4
Helen – 1
Jeanne – 4
Jo B. – 4
Jo S. – 6
Jude – 6
Julianne – 3
Julie P. – 3
Julie W. – 6
Karen A. – 2 ***NEW ***
Karen B. – 3
Karen H – 4 ***NEW ***
Karen N. – 6
Kate – 5
Kathy – 6
Kim – 4
Laura – 6
Laurina – 3
Lori – 3
Lorraine – 4 ***NEW***
Madison – 6
Maree – 6
Marie – 6
Margaret – 6
Maria – 3
Mary Jane – 6
Melissa – 2  ***NEW***
Nann – 6
Peggy – 6
Pokey – 4
Rachel – 6
Sandy – 5 ***NEW ***
Sharon – 6
Shelley – 6
Vivi – 3
Blocks donated (no chances in Drawing):
Andi – 1
Angie – 1
Bonita – 4
Cathy C – 2
Charlene – 4
Ellen – 3
Kathie – 4
Kristin – 3
Linda – 4
Marybeth – 4
Rachel – 1
Sophie – 6