tall red star experiment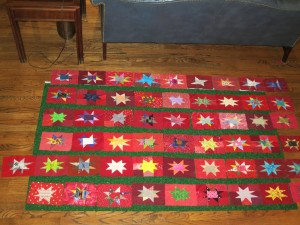 I've been focusing on finishing my "row along" quilt to enter in the Dallas Quilt show, so haven't let myself play with the tall red star blocks that I won in the fall, but this weekend I'm going to a quilt retreat so may have time to play with them.  So I got them out tonight and laid them out in columns on some dark green fabric I have in mind for vertical sashing.  The light doesn't do them justice, but my how gorgeous they are!  Thanks again to all of you.
I wasn't sure how well all the different reds would play together (and they are all different!), but I think it works.  I think it will be more columns than this, probably 8 rectangles long and 7 columns wide. I need to make at least one more.  I'd love any comments.  (I laid these out very randomly, so haven't played with how the stars should go.  I love how the yellows pop!)
Thanks again!