Let's Blog about Color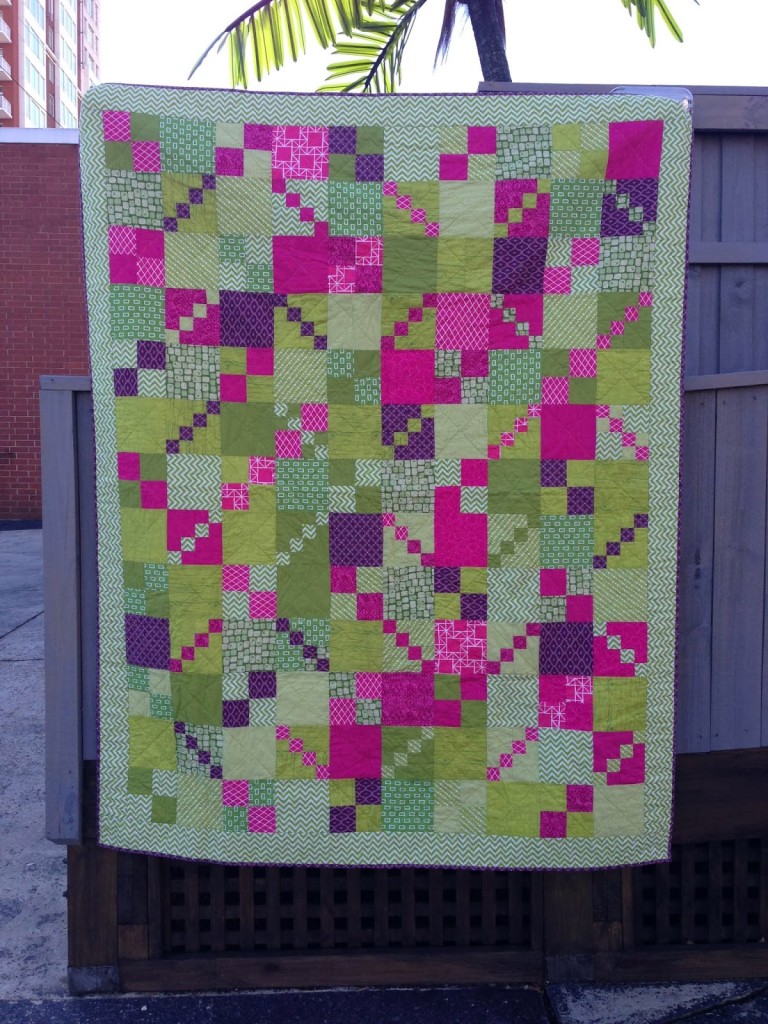 I noticed this quilt on the blog, Fist Full of Fabric, and thought the combination of greens, pinks and purples was interesting.  Look closely and you'll see a range of light to medium greens, medium and dark pinks and dark purples.   I think it has potential for a future lotto block … what do you think?
When we talk about color palettes, sometimes a photo really is worth more than a simple text description.
Last month, as part of the fabric giveaway, I asked for suggestions for color combinations for future lotto blocks and you answered.
Only a couple of you offered a link or posted about your color ideas. Because color names can be (and regularly ARE) interpreted by each of us, I thought it would be interesting to talk about color with examples.
This month, let's  blog about color.  Topics to consider:
Colors you love
Colors you hate and cannot make yourself use (Pink used to be in that category for me)
Favorite color combinations
New-to-you color combinations you'd like to try
Types of combinations you prefer or would like to try (i.e., compliments, split compliments, analogous, etc.)
Changes you've seen in your color preferences over time
How you pull together a color palette (for a quilt, for decorating, for what you wear …)
Colors you'd like to see used for a future Block Lotto
This might be a good month to play with a color palette generator.  Julie commented on a sunrise photo on my blog, suggesting it as a color idea and I wondered what would happen if I ran it through a color palette generator.

Use this link to read a review of Five Amazing Color Palette Generators.  I used Color Hunter on my sunrise photo.  I wish it had included the yellow I see in the photo, but it's still interesting, I think. 
If you'd like some color combinations to consider, or a jumping off point, here are your suggestions to me in the comments last week. Do you think everyone who suggested "blue and yellow" were seeing the same thing in their mind's eye.
| | | |
| --- | --- | --- |
| Anything with black | batik and cream/tan prints | batiks |
| black and gold | black and white + any color | black white and bright |
| black white red | blue and cream | blue and gold |
| blue and gold | blue and orange | blue and white |
| blue and white | blue and white | blue and yellow |
| blue and yellow | blue and yellow | Blue and yellow |
| blue, purple, red and yellow | brights with black | brights with gray |
| brights with white | Christmas combos | Cool colors from September |
| dark purple, lime green, a little pink | eggplant purple | Gray and orange |
| gray orange purple | green – lime and raspberry | green – lime, turquoise, orange and sky blue with black |
| green brown red | Green Orange | green Purple |
| green purple | green red | green with white or cream |
| green-lime with purple | jewel tones on black | jewel tones on black |
| monochromatic | monochromatic (blue as an example) | monochromatic (liked the previous suggestion) |
| natural neutrals like browns | novelty fabrics | orange pink gray cream (from Feb 2012) |
| Pink and orange | Pink and Brown | pink and green |
| pink and yellow | Pinky red, light lime green and a medium blue | rainbow colors on white |
| red and brown | red and white | red and white |
| Red Tan Blue | Teal and Black | turquoise and hot pink |
| Turquoise and Purple | yellow orange maroon white and black | yellow pink and white |
These suggestions definitely will have an impact on future lotto blocks, I already have some ideas, but because I know what I "see" when I read them may not be what you intended, I'd love to see what you see and collect images that can be used as color inspiration in future months.
Remember, you don't have to have your own blog to join the party.  You can create a blog post here (use the category block lotto community) and link it or link to your image on Flickr or another photo sharing site. If you link to a photo, be sure to include a description to make your suggestion perfectly clear.