Tall Stars Quilt Finish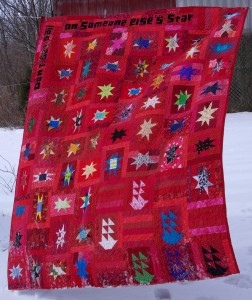 72 x 90
I squared up the blocks to 9 inches, added a few Tall Ship blocks and the words "Don't set sail on someone else's star".
I have more photos and details on my blog post today.
Thanks ,everyone, for the lotto winnings! One of my grandkids will get this quilt when they graduate from high school. That will be a while so into the hope chest it goes.
Sane, Crazy, Crumby Quilting
http://saneandcrazy.blogspot.com/