Let's Blog About Fabric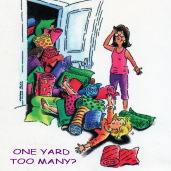 Lately, I've been thinking about my fabric stash and how little fabric I've had to purchase lately because I can almost always find what I need in my own fabric collection. I know some quilters that buy fabrics for a specific project and toss or give away the left-overs … but I suppose I am closer to the ladies in the cartoon.
How about you?  Do you have a fabric stash?  When you start a new project, do you turn to your stash,  grab your car keys and head to your local fabric store, or let your fingers do the walking and shop online?  Do you keep track of fabric coming in and being used? Do you have limits or goals when it comes to acquiring or using fabric?
This month, let's blog about fabric.  You might blog about a favorite fabric line or fabric designer, how you choose fabrics for a project, how you organize fabrics in your stash … or some other fabric-related topic of your choosing.
Blog about fabric and link your post below.  I almost wrote, blog about your relationship with fabric … but I realize that I might seem a little like this panhandling woman.
source: Pickledish