May's Block is Diagonal Bars
For May,  we are making a 7-inch square block called Diagonal Bars in blue with cream.
This is one of the  blocks that Debbie made as part of the sneak peek.
The block pattern directions include a template for paper-piecing in addition to traditional rotary cut and sewn directions:
Diagonal Bars Quilt Block Directions
In May, you can make a maximum of 9 blocks to enter in the Block Lotto Drawing.
Tags
Add the tag bars to all your blog posts about this block. The category should be blocks when you are posting photos of your blocks to enter them in the drawing; use the category sent and received when you are posting about mailing or receiving blocks; and the category show and tell to share projects you make from this block (whether they are lotto blocks or blocks you make for yourself.
 Color/Fabric Guidelines
The color way for May is "true blue" and cream/light tan.
BLUE – your blue fabrics may be solids, tone-on-tone or multicolor prints that are predominately blue and "read as" a true blue from a distance.  Your blues may be lighter or darker, but should be darker than your cream/tan with good contrast (if you're in doubt, take a photo and convert it to black and white to see the value of your fabrics.  We're looking for "true blue," so avoid aquas, turquoise, teals and anything leaning too close to purple.  Save the aquas and teals for JUNE (hint).
CREAM fabrics may be solid or a tone-on-tone (TOT) print in cream or light tan.
If you make multiple blocks, you may use the same CREAM fabric in all your blocks. Each block should have a unique BLUE fabric.
 Inspiration
The idea for this block came from this red and white quilt from the Red and White quilts exhibit in New York a few years ago, Infinite Variety: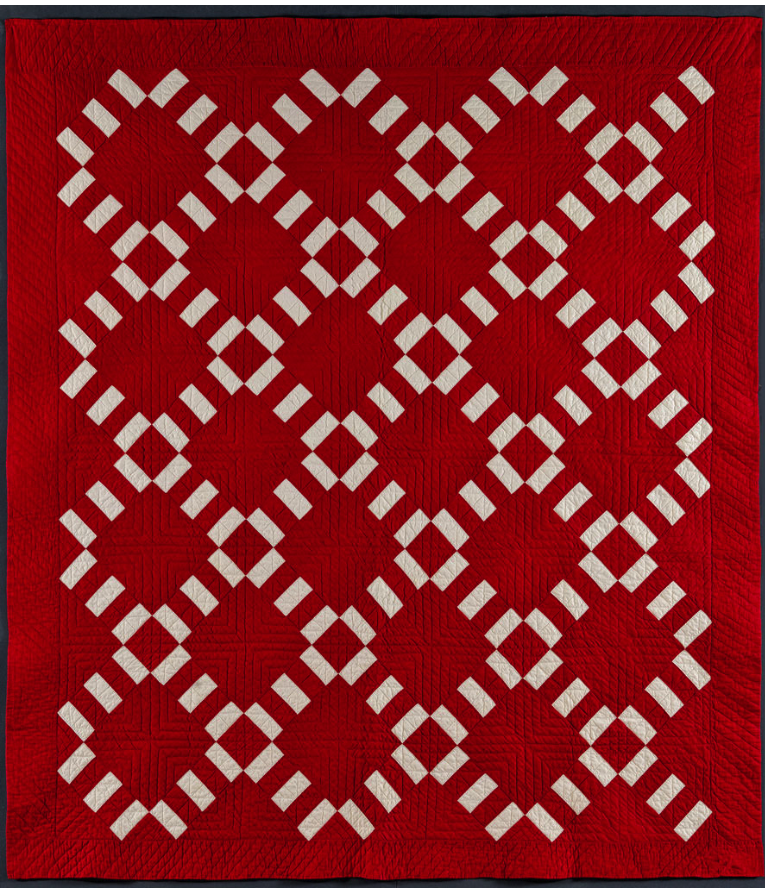 The proportions of our blocks were changed a bit to make it easy to rotary cut and sew into a 7 inch block.
More Inspiration – The Virtual Quilt
These blocks were made by sneak peelers Caroline, Debbie, Elizabeth, Ginny, Kathie, Peggy  … and me.
You can see full size photos of all the virtual blocks in my Flickr album Diagonal Bars -May Lotto Blocks.
Mod-Mod Quilt-Along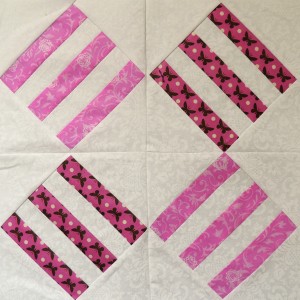 The QAL update will be published mid-month. In the meantime, here's the number of  the month's blocks you'll need for each of the 6 quilt sizes:
| | | | | | | |
| --- | --- | --- | --- | --- | --- | --- |
| | Small | Crib | Throw | Twin | F/Q | King |
| Diagonal Bars Blocks | 4 | 4 | 8 | 12 | 12 | 20 |
In all quilt sizes, groups of four blocks are sewn together into a 4-Patch.  Here are four of mine for my Full/Queen-size quilt.