Mini-Lotto Blocks Make Great Pincushions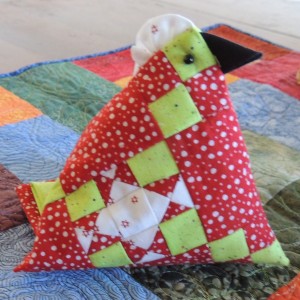 Remember those small 5 1/4 inch Star Chain blocks I posted last week? Here's what became of them.
I've always thought that mini-lotto blocks would make cute pincushions, though I was thinking of something flatter, with just a matching back sewn onto a block.  But I've always loved these chicken pincushions whenever they've crossed my path and I saw a bunch for sale in a booth at a local sewing/quilting/crafting show a couple weeks ago and decided to combine both ideas.
I used this tutorial as a guide–my blocks were larger than the 4 inch squares, so I rounded up the measurements of the rest of the parts to make a proportional chick.
This pair have flown the coop to live with friends to help them with their stitching … but I see more in my future.