The Sneak Peek and … Suspending Disbelief
If you are one of the dozen quilters who have made sunrise blocks and posted them, you should have received email from me with the July 2014 Block pattern and guidelines.  If you should have received the email, but didn't, please let me know ASAP.
If you haven't yet made the block, you have one week to find the time or face your fears before the deadline.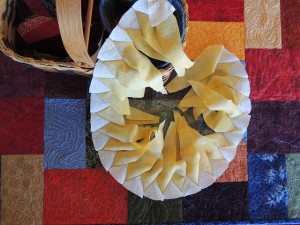 This morning, I was thinking about how, even in quilting, we sometimes need to suspend disbelief and keep going.  Here's a peek at what prompted that idea.
This will be a round, sunflower-inspired block (which was inspired a bit by this month's Sunrise block), which I started hand-piecing yesterday.  Looking at all the loose bits on the inside yet to be sewn and wondering if they are actually going to fit (and be flat when I'm done) made me think about how I had to trust my pattern and suspend disbelief until it was a lot closer to finished.  (If you're curious, I blogged about my Summer of Sunflowers project on my Sophie Junction blog, here.)
And then I realized that even though the 24 Sunrise blocks made for the Block Lotto this month will make a lovely quilt for a (single) winner, it is definitely a low-water mark in the totals of blocks made each month.  Add to that the utter lack of respond to my linky topic this month and well …  as much as I believe you'll find next month's block (and next month's topic) more appealing, I am, in a way, suspending disbelief about what message this month's (lack of) participation could be telling me.
If you choose to suspend disbelief and look forward to the July block and want to start thinking about fabrics … we'll be making monochromatic blocks in colors of your choice. fabrics can be solids, tone-on-tone prints or multicolor prints which are predominately one color. Think about mixing lights and darks and brights in a single color with strong contrast.
(And I promise that the block is pretty easy, too).