Monochrome Spokes Blocks in July
I called this block Spokes because, although there are 8 spokes in our blocks this month, you can use the same technique to make a block with any even number of spokes.  Calling it an asterisk (6 spokes), snowflake (6 points) or fireworks (many spokes) seemed too specific to me.
I made this one.
The directions for making the 7 inch (finished size) block are here:
Tags
Add the tag spokes to all your blog posts about this block. The category should be blocks when you are posting photos of your blocks to enter them in the drawing; use the category sent and received when you are posting about mailing or receiving blocks; and the category show and tell to share projects you make from this block (whether they are lotto blocks or blocks you make for yourself.
Color/Fabric Guidelines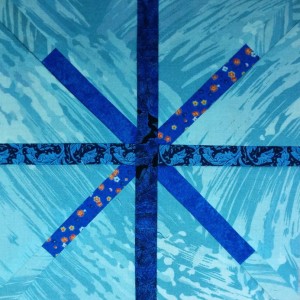 We're making this block in MONOCHROME combinations in colors of your choice. Fabrics can be solids, tone-on-tone (TOT) or multicolor prints that are predominately one color and read as one color from across the room.
All fabrics in a single block should be the same color with value contrast.
You can make blocks with a light background and darker spokes or the othe way around.
The spokes in your block can be cut from one fabric or up to four.  Debbie made this block which has a lighter blue background with 4 different darker blue spokes.
If you make multiple blocks, you can repeat fabrics, but each block must be a unique fabric combination.
You make make a maximum of NINE blocks to enter into the drawing.
Notes on Making the Spokes Block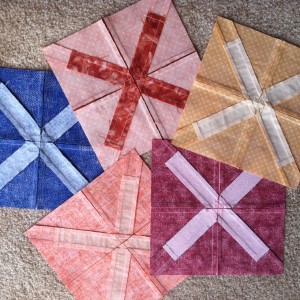 During the Sneak Peek, we talked about pressing.  It will be easier to deal with the skinny strips of spoke fabric if you press every seam.  When I made my blocks, I pressed all the seams toward the spoke fabric, but when Julie P showed me how she had pressed her block and Debbie shared that it's how she pressed her blocks, too … I thought it was a better/smarter way.
Here's a photo of the back of Julie's blocks. She pressed the first two inserted strips (on the diagonals) toward the background and the second two (vertical and horizontal) toward the spoke fabric.
Peggy shared that she used a tip from the Banded Basket blocks we made last fall and cut the strips wider than 1 inch and then trimmed them to size (3/4 inch) after sewing one side to the background.
Virtual Quilt
It was a pretty exclusive sneak peek group this month, but large enough for a virtual Spokes quilt, made from blocks photos from Debby, Dena, Ginny, Julie, Margaret, Peggy and me.
The original sized photos of the blocks are in my Flickr photo set Spokes Quilt Blocks
Mod-Mod Quilt-Along
The QAL update will be published mid-month. In the meantime, here's the number of the month's blocks you'll need for each of the 6 quilt sizes:
| | | | | | | |
| --- | --- | --- | --- | --- | --- | --- |
| | Small | Crib | Throw | Twin | F/Q | King |
| Spokes Blocks | 3 | 4 | 6 | 9 | 14 | 21 |
In the quilts, the Spokes  blocks will sometimes appear on their own, or may be are sewn together to form pairs or a three-block chain.