Spokes blocks received and a small quilt with Block Lotto influence
I'm very happy to report that ALL of my spokes blocks have arrived, and they are making a charming display on my design wall. Aren't they wonderful? Now all I have to do it figure out the best way to make them into a quilt masterpiece! Thanks to everyone who sent me blocks.
The blocks that spell out my name in the lower left corner were made by Marielle in Mexico, who sent them along as a surprise. Marielle I love them! Thank you.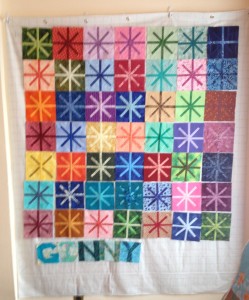 I made this little quilt, which features Sophie's sun pattern from earlier in the summer, for my quilt guild's small quilt challenge. All entries have to be exactly 20 inches square, and the theme we were given was "Celebration." Hmmm……that's a tough one to design a quilt around, but I'm something of a sun worshiper, so there you have it.