Mod Mod Sampler Finished!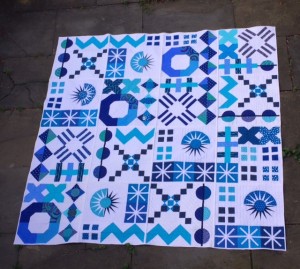 I finally finished this just a moment ago and was so excited I threw it down in my yard and snapped a photo so I could post it for you. I did it as quilt-as-you-go, and found tutorials on the internet that let me finish the sashing and the binding totally by machine. It's what a mod mod quilt deserves, don't you think?
This is the queen size, so it's very big! My mother loved it when she saw it, so I am going to give it to her. After I wash it.
Thanks Sophie for the pattern and the super fun year of mod blocks!