My mailbox overflowing~
I was thrilled to walk out to my pier and open my mailbox and out popped so many wonderful envelopes filled with goodies. I received so many beautiful blocks from the following:
Barbara P, Karen B, Kathie, Laurie, Myrna, Nann, Peggy M, and Sophie!
Yall are so talented and the coolest thing is that so far noone has used the same fabric. I just think that is interesting. I cannot wait to start trying to figure out what I want to do with them. I am going to wait to play when I receive all of them!
I hope you don't mind but I want to share a pick of my mailbox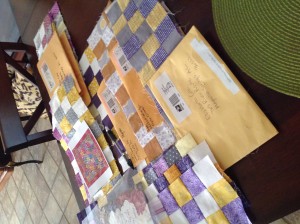 . You are probably saying a mailbox is a mailbox Elizabeth are you crazy? But I receive my mail by water. The postman gets in his boat and rides from pier to pier to deliver mail. I thought yall might think that is cool!
Hope  yall have a wonderful Friday!
Happy quilting,
Elizabeth Cole