September 2015 Recap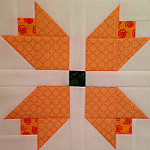 In September, we celebrated Spring with the members of the community that live in the southern hemisphere and making this 9-inch square (finished size) Tulip block.
Marianne made this one.
32 quilters made 136 blocks.
Complete guidelines and a link to the pattern are in this post:
Think Spring (!?) in September
Tag for ALL blog posts about this month's block: tulip

This list is an archive of the blocks made, who made them and who won them.
Blocks entered into Drawing: 
Cathy L – 4
Corinne – 4 *** WINNER #1 ***
Deborah – 7
Gail – 4
Glenna – 2
Helen – 1
Julianne – 3
Julie P  – 3
Kate – 2
Kathie – 2
Karen B – 2
Karen N – 4
Kay – 2  *** NEW ***
Laura R – 9 *** WINNER #2 ***
Laurie – 9
Laurina – 2
Linda N – 1
Maree – 6
Margaret Ro – 3
Maria – 2
Marianne – 5
Mary S – 2
Myra -4
Peggy – 5
Rachel – 9
Sue K – 6 *** WINNER #3 ***
Blocks donated (no chances in Drawing): 
Barbara P – 4
Nann – 6
Robin – 3
Sophie – 6
Rule-Breaking Blocks (Separate Drawing) – total so far: 14
Carol – 2
Julianne – 2
Julie – 5 (donated chances)
Rachel – 2 *** WINNER ***
Sue K – 3