Twinkle, Twinkle, Mono-Chromatic Stars in October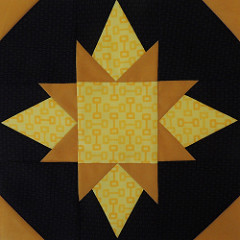 I first saw this star block design on Angela's So Scrappy blog. Her version is 6 inches.  Ours is a 9-inch square (finished size) block with added snowball block-style corners. I made this one.
The fabric guidelines and my directions for making this block can be found here:
Twinkle Star Quilt Block Pattern
This block uses the Triangle-a-Square unit AKA Peaky and Spike. You may use whatever technique you prefer to create the four units in the star.  The Tri-Recs tools can be used to cut the triangles you need;  Accuquilt has a die for a 3 inch triangle in a square; you can also use templates.  I produced these templates for a 3-inch (finished size) triangle in a square unit in EQ7 (and Karen–who noticed a sizing problem with the temples in the sneak peek–kindly test printed them and confirmed that they come across correctly sized for her):
Triangle-in-a-Square Templates
Angela has a tutorial blog post on So Scrappy which shows how to use the Tri-Recs ruler to make the block. You can find it here:
Don't Forget: She is making a smaller 6 inch block, so wherever she says 2.5 inches, it will be 3.5 inches for a 9-inch block. And where she says 1.5 inches, it will be 2 inches.  Also, we have added snowball triangles to the corners of the block, for an interesting secondary pattern when they are used in a quilt.
This block can also be paper-pieced, if you prefer that technique.  The foundation templates are in this file:
If you paper piece your block(s), be sure to remove the paper foundation before mailing them to the winner(s).
You may make a maximum of 9 blocks for chances in the drawing at the end of the month. The target set size for the winners will be 48 blocks.
If you make multiple blocks,  you can use the same black background in all your blocks and repeat other fabrics as long as none of your blocks are twins.
Tags and Categories
Add the tag twinkle to all your blog posts about this block.
The category should be blocks when you are posting photos of your blocks to enter them in the drawing; use the category sent and received when you are posting about mailing or receiving blocks; and the category show and tell to share projects you make from this block (whether they are lotto blocks or blocks you make for yourself.)
Color Guidelines
The color guidelines for this month are similar to last month, except with a black background instead of white.
Background fabric is a black solid or black-on-black (BOB) print
Star fabric is a solid, tone-on-tone (TOT) or multicolor print that are in any color of your choice
Accent fabric is the SAME COLOR as the Star fabric in a lighter or darker shade. It can be a solid, tone-on-tone (TOT) or multicolor print
It is your choice which of the Star fabric or the Accent fabric is lighter and which is darker.
The Virtual Quilt
Here's what happens when none of the sneak peeker's are inspired to make early blocks … a sad little 4-patch of blocks made by me.