Week 5 – Row Sampler (non) Progress
Uh oh … I am already falling behind with my row per week goal.
I'd like to blame it on the "a word" (appliqué) … but it's probably more a reflection of the stress in my life right now.
I cannot show you a row yet, but here's my plan.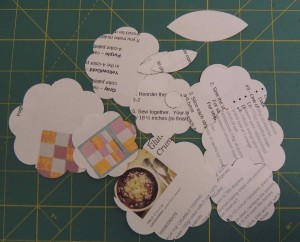 I decided to work on the flower appliqué row next.  Because I know the blocks will be side-by-side, I thought it would be fun to add a vine and a few leaves to connect the flowers. To figure out the vine, I used a bendy ruler that holds its shape.
Then I remembered a die that had a similar, smaller flower shape and decided to use it to cut the fusible flowers.  To figure out how many I needed and where to place them, I cut a bunch of the shapes from scrap paper. the die also had some leaf shapes in two sizes, so I cut some of those, too.
Then, one night,  I played with my pieces, using a 12 by 18-inch mat to get a rough idea of two 9 by 9-inch blocks.  To make things easy, I decided to create a design that repeat every two blocks.  At the end of the night, I was satisfied … and laid the rulers on top to prevent the cats from re-arranging things while I slept.
The next day, I committed my pattern to paper.
I have pieced the background using the printed in blue pork tamale bags and chosen fabrics, but that's as far as I am with this row.
I did say in the beginning that these posts would help me be accountable … I hope to play catch-up soon.
Thought for the week
Life happens … and sometimes slows us down.  If you don't meet a published goal because of it, accept it and move on.  (Or, at least, that's what I am going to try to do.)