New Year, New Block and Birds in the Air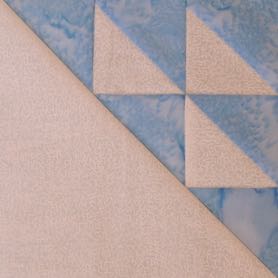 Birds in the Air is one of those traditional blocks whose strong graphic design can make it seem quite contemporary.
We will be making a 6-inch (finished size) block.  All the lotto blocks this year will be 6 inch squares (finished size).
You may make a maximum of 9 blocks for chances in the drawing at the end of the month. The target set size for the winners will be 48 blocks.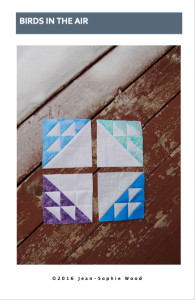 This year, I will be hosting the block patterns on Payhip, mostly as a way to track how many are being downloaded.  They will continue to be free for the first 10 days of the month. You can download the pattern by clicking the image or this link and the coupon code DSS6FO4142 for your free pattern.
Birds in the Air Quilt Block Pattern
As you will notice, I'm using an old/new format.  Do please let me know what you think.
Fabric Guidelines
This block is made from 2 fabrics–Sky and Bird.
Sky– can be solid white, a white-on-white (WOW) print or a print with a white background that is predominately white.
Bird – can be a solid, or tone-on-tone that is blue or purple.
If you make multiple blocks,  you can use the same Sky fabric in multiple blocks, but each Bird fabric must be unique.
Tags and Categories
Add the tag in the air to all your blog posts about this block.
The category should be blocks when you are posting photos of your blocks to enter them in the drawing; use the category sent and received when you are posting about mailing or receiving blocks; and the category show and tell to share projects you make from this block (whether they are lotto blocks or blocks you make for yourself.)
The Rainbow Scraps Challenge Connection
As much as possible this year, I will coordinate Block Lotto fabric guidelines with the chosen colors of the month for the Rainbow Scraps Challenge. If you aren't familiar with this activity, you may want to check it out …  FYI, there's a fabric giveaway on Angela's blog for blue and purple hand-dyed fabrics.
Quilt Setting Ideas
This block has many possibilities when it comes to setting ideas. I hope you all make at least 4 blocks so you can see what happens when you rotate them, put them on point, etc.  Try treating them like a half square triangle unit and creating a block from them.   Here are two ideas to start. In the first, I played with rotating the blocks in an on-point setting. In the second, I created sawtooth-stars from the blocks, using them as HSTs.