The Leap Day Winners are …
A funny thing happened when I went to the random.org site to use it to pick our winners … the site was (temporarily?) unavailable. Fortunately, it was only a small hiccup because I still had the random app on my phone, installed when my computer died last year.
We ended the month with 166 blocks, 25 of which were donated with no chance in the drawing.  Our 3 winners are:
| | | |
| --- | --- | --- |
| | | |
| Julianne – 56 blocks | Jude – 56 blocks | Kathleen – 54 blocks |
Congratulations to our three winners … expect email from me later today confirming your mailing address and asking how many of your own blocks you'd like to keep.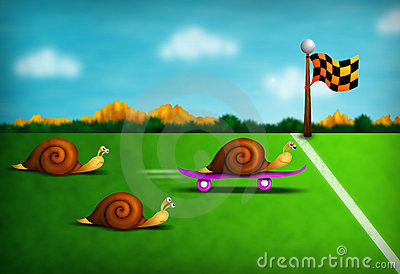 I'm not sure why the idea of snails racing came into my head this morning–even more surprising was the plethora of cartoons I found on the subject.
If these three winning snails represent our three winners, I am pretty sure the one on the skateboard would be Jude.