Bonus Triangles – Keep or Toss?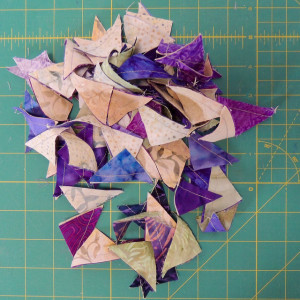 If you have made some violet blocks, you likely have a pile of triangles that look something like this. These are the 88 bonus triangles you'll have if you make 11 blocks for Old MacDonald's Mystery Sampler.
Do you sew them up into half-square triangles and use them or save them or … toss them because they are too small?
When you make 6 -inch blocks, if you sew up the bonus triangles, you'll have half-square triangles (HST) units that will finish at approximately 3/4 inch … unless you need to square them up to a uniform size, which I did a couple years ago. I used the tiny 1 inch pinwheels as cornerstones in this scrappy pinwheel quilt.
The larger pinwheels in this small quilt (25 1/2 by 31-inches) were made from the bonus triangles from another project and the string pieced borders were made from the leftovers of a novelty fabric swap.  Aside from the white background used for sashing and setting triangles, this quilt was entirely made from the bits and pieces that many quilters rightfully toss.
It is pretty logical to toss something so small, unless those tiny triangles charm you into making them into something.  The fabrics in my blocks for the Block Lotto and for my scrappy graduated sampler seemed compatible, so I sewed them up into pinwheels–each of the pinwheel blocks is 1 1/2 inches (finished size). I think I must has tossed the bonus triangles from my first block and one of these is really muddled and not at all pinwheel-like so I likely will toss it, but I have an idea for a small quilt featuring the remaining 17 teeny tiny pinwheels.
Are you a keeper or a tosser?  If you keep the bonus triangles, how small is too small?  My limit used to be larger (at least 1 inch finished size) … until I made the Pinwheel HSTeria quilt. Now I see the value in blocks as small as these.