More Tips and Options for Butterfly Blocks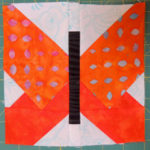 During the sneak peek, I said that I had an idea for how to make this month's block without paper piecing it.  Yesterday, I finally got around to trying it.
The basics are that I printed the foundation pattern onto the non-shiny side of freezer paper (cut to size and flattened to fit through my printer). I cut the printed foundation apart and ironed the templates onto my fabrics, then used a ruler and rotary cutter to add 1/4 inch seam allowance all around and cut out the pieces. I sewed the block together in the same numbered order as the paper-pieced block. You can read more about my experience on my blog.
If you thinking of making Susan's butterfly block pattern for your sampler, the directions are available on her blog.  You can find them here:
If you haven't tried paper piecing and are working your way up to try it this month, Barb P shared a link to this very beginner friendly introduction – Paper Piecing Made Easy Tutorial.