Green Leaves of May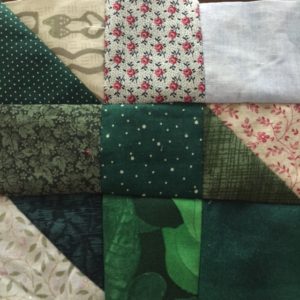 In May, we are making a 6-inch (finished size), scrappy Green Leaf block pairs.
Teresa made this Green Leaf block.
The block is made from four or more fabrics: at least 2 lights for the background, and at least 2 greens for the leaf.
You may make a maximum of 5 block pairs (10 blocks) for chances in the drawing at the end of the month. The target set size for the winners will be 48 blocks.
Block Pattern
You can find the block pattern here:
Green Leaf Pairs – Quilt Block Pattern
Use the coupon code G6RWMQD6ZN to get the pattern free during the month of May.
The pattern includes tips for choosing fabrics for scrappy fabrics as well as a bonus pattern for making a pillow cover using these blocks, some additional squares and an appliqué bloom.
Fabric Guidelines
This block is made from at least 4 fabrics in two colors:
Green –Solid, tone-on-tone prints or multicolor prints that are predominately green (used for the leaf). Use at least 2 different greens in each block.
Light –Think "light but not white (or cream)." Any solid or print that is pastel or is printed on a white, cream or light background and reads "low volume." Do NOT use any white or cream solids or prints that contain ONLY white and/or cream. Use at least two different lights in each block
If you make multiple blocks for the Block Lotto, you can use the same greens and lights in multiple blocks as long as each leaf block is unique.You can use the same or different fabrics in each block of your pair–the shape of each block should "mirror" one another, but the fabrics do not have to match.
Tags and Categories
Add the tag leaf to all your blog posts about this block.
The category should be blocks when you are posting photos of your blocks to enter them in the drawing; use the category sent and received when you are posting about mailing or receiving blocks; and the category show and tell to share projects you make from this block (whether they are lotto blocks or blocks you make for yourself.)
The Rainbow Scraps Challenge Connection
Loren Green is the color choice for the Rainbow Scraps Challenge this month, with a suggested accent of medium brown–the inspiration is evergreen–but for your lotto block pairs, all shades of green are acceptable (and encouraged!)
The Virtual Quilt
Sorry for the delay my computer woes have caused … this little virtual quilt made from blocks sent to me during the sneak peek from Peggy, Robin and Karen may give you an idea of how all our scrappy fabrics may play together in the winners' quilts.
Quilt Layout Ideas
I originally envisioned this block as a "leaf" in a quilt something like the virtual quilt above or, with stems added, like this:

But then I started playing with other, more geometric possibilities, like this: