Update on old MacDonald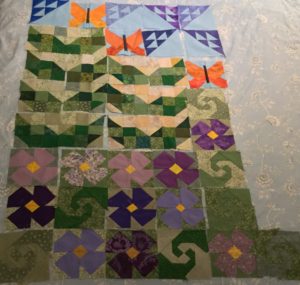 Okay the lighting is not the best but I am able to make a tally of OMMS blocks.
Note also this is not the planned layout.
Sky 6/6
Snails 7/7 (1 may be replaced lower right)
violets 11/11
butterflies for sky 3/4 for mountain 0/1
green leaves ground cover 8/8 for mountain 6/6
So 2 butterflies are missing, better progress than expected.
thanks Sophie