The Three Bears – A Fill-in-the-Blocks Quilt Idea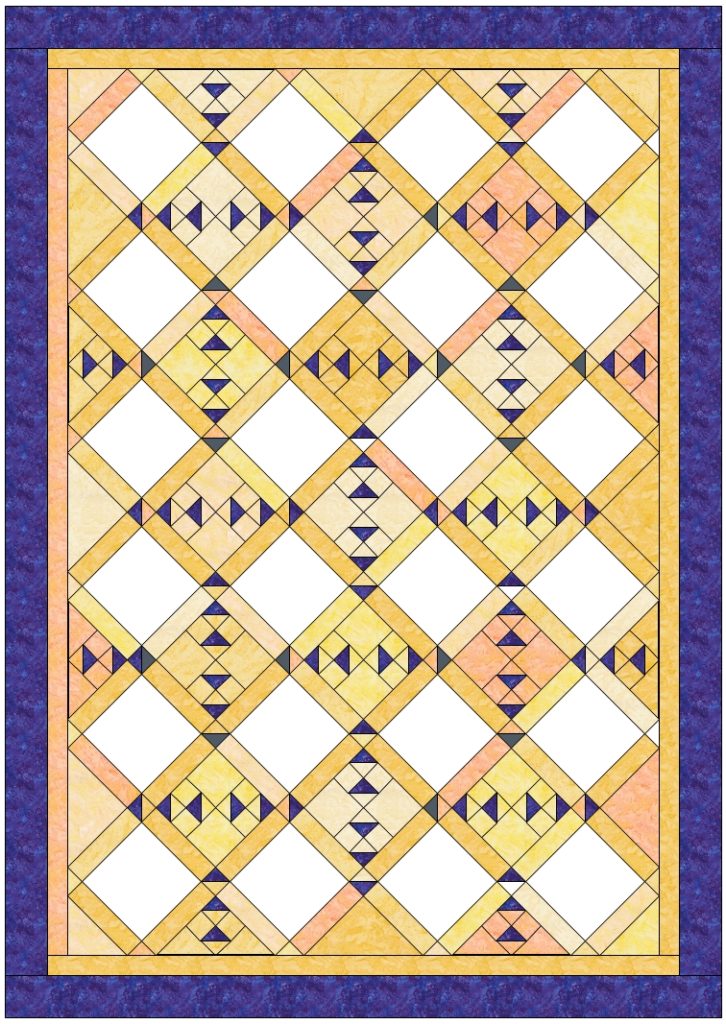 If you follow my personal blog, Sophie Junction, then you may have already seen this quilt design.
It started percolating in my head as I was thinking about a sampler quilt design for this year's 8 inch lotto blocks.   But I hope you don't think of it as a sampler design ONLY.  My idea was to create a quilt pattern into which you could fill-in-the-blocks.  What you use to fill them with is up to you.
You could fill them with:
8 1/2 inch squares of a large scale fabric that you wanted to feature (and not cut up)
Plain squares in which you could feature quilting or embroidery
A set of 8 inch (finished size) blocks all the same pattern (maybe some lotto blocks you have won)
A set of sampler blocks–yes, I will likely make a sampler quilt from this year's lotto blocks using this pattern.
Orphan blocks that are 8 inches (finished size) or smaller–add background strips to the smaller blocks to make them all 8 1/2 inches before you sew them into the quilt.
So, for example, if you made a bunch of the split heart blocks included in this month's block pattern using a bunch off pink and purple batiks and added two fabrics–one for all the background and one for the contrasting fabric in the half-square triangles, it might look like this.
The quilt pattern has all the yardages, cutting and directions for everything EXCEPT the blocks you choose to feature.
How about red triangles on a white background with blue stars for a Quilt of Valor or other military/patriotic quilt?
I am calling this pattern The Three Bears because it comes in three sizes:
Baby Bear – add 12 blocks for a quilt that is 54 by 58 inches.
Mama Bear – add 24 blocks for a quilt that is 68 by 96 inches (the size shown here).
Papa Bear –  add 36 blocks for a quilt that is 96 inches square.
The pattern will include fabric yardage needed for each size, directions for making the alternate block and the pieced setting triangles and directions for putting it all together. There will also be color sheets for each size so you can play around with your own color ideas.
You will be able to purchase/download it in a few days … BUT if you make and post blocks, you'll receive a coupon to download it for FREE. I will send out the coupon code with the mailing instructions at the end of the month.
What do you think?
Interesting setting for blocks you may win (or maybe won in the past)?
Interesting for a sampler quilt?
Would you like to see more fill-in-the-blocks quilt designs for this year's blocks?