Quilt top of May Rail Variations blocks
Hi everyone!
Here is my finished quilt top of our May Rail Fence Variations blocks.  I had intended for the zig-zags to go lengthwise down the quilt, but accidentally laid them out this horizontal orientation at first, and decided I liked it more than the vertical set.   Anyway, I now need to find a back for this, and get quilting!
Many thanks to the ladies who sent all these pretty blocks to use!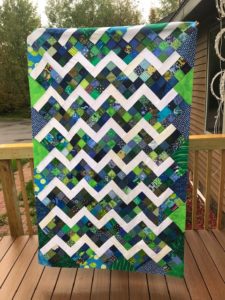 One question for the group- if/when you enter such quilts into a show, how to you attribute the makers of the blocks?  What is the best thing to do?