January 2016 Recap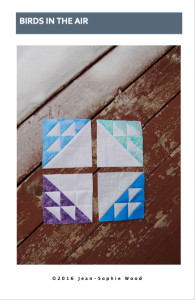 We began a year of 6 inch (finished size) blocks in 2016 with the traditional block, Birds in the Air. 42 quilters made 254 blocks, which were won by Andra, Cathy L, Erin, Lori, and Mary.
Complete guidelines for the January block and links to the block pattern are in this post:
New Year, New Block and Birds in the Air
The tag for ALL blog posts about this month's block: in the air

Quilt-Along 2016 began this month.  Updates appear on the page 2016 QAL.
As an archive of the blocks, here is the list of blocks made and who made them.
Blocks entered into Drawing:
Andra – 9 *** WINNER ***
Barbara P – 4
Barbara S – 1
Céline – 9
Carol – 4
Cathy L – 8  *** WINNER ***
Christa -1
Debbie M – 4
Ellen – 9
Erin – 9  *** WINNER ***
Glenna – 9
Helen – 1
Janet – 1
Jude – 6
Julie W – 6
Karen B -4
Karen N – 4
Kathie – 4
Kathy S – 6
Kristin – 9
Laura R – 9
Laurie – 9
Laurina – 4
Linda – 4
Lori M – 9  *** WINNER ***
Maree – 6
Mariella – 9
Margaret – 8
Marsha – 3 ***NEW***
Mary – 7  *** WINNER ***
Myrna – 3
Naomi – 2
Nicole – 5
Pat K – 3
Peggy – 5
Susan – 4
Teresa – 6
Blocks donated (no chances in Drawing): 
Julie P – 5
Marianne – 11
Mary – 6
Nann – 9
Pat K – 8
Robin – 7
Sophie – 4