Scrappy Triangles in March
In March we will be making 9 inch (finished size) Scrappy Triangle blocks from White + 4 or more fabrics of your choice.
You may make and enter a maximum of 9 blocks for chances in the drawing at the end of the March.
FABRICS
White – solid or white-on-white (WOW) print for the top half of the half-square triangle units
Your Choice – at least 4 fabrics of your choice for the other sides of the half-square triangle units.  These fabrics should NOT be white or cream.  If you make multiple blocks, you can repeat fabrics, but don't make them identical.  You might decide to:
1.  Play with color combinations
2. Use the charm pack that you won as a Guild door prize (or were gifted by a friend.)
3. Do a little spring cleaning of your stash in honor of spring's arrival later this month (in the northern hemisphere)
4.  Jump on the opportunity to rid yourself of some ugly fabrics in your stash . . . to paraphrase Bonnie Hunter, no fabric is ugly if you cut it small enough.
CONSTRUCTION
The block is made from nine 3-inch half-square triangle units (HST) sewn together as a 9-patch.  Each of your HST units should measure 3 1/2 inches square before you sew them together.
NOTE: THE HST UNITS MUST BE ORIENTED AS SHOWN IN THE ATTACHED VIRTUAL BLOCK PHOTO.
Each block should have 9 triangles which are half white with at least 4 other fabrics.
How you make the HST units is up to you as long as the outside edges are on the straight of grain.   If you always make them one way, you may want to try a different method.  I thought I MUST HAVE written some sort of tutorial in the past, but I think I never have because there are so many good ones out there–here's a list of links with tutorials and templates:
Step by step photos of cutting the triangles:  http://www.allpeoplequilt.com/techniques/cutting/cut-triangles_ss1.html
Probably the most popular method–start with squares:
http://quilting.about.com/od/quickpiecingtechniques/ss/halfsquaretria_2.htm
http://www.connectingthreads.com/tutorials/Pinwheels-Intro_to_HSTs__D4.html
http://www.psiquilt.com/2010/02/half-square-triangle-tutorial.html
Video of that technique: http://video.about.com/quilting/Half-Square-Triangles.htm
Use triangle paper:
(Thangles, Triangles on a Roll, Triangle paper). or free:  half square triangle paper templates :  http://www.quilt.com/Blocks/TrianglePapers/Triangles.html
If you have an Accuquilt GO cutter and a 3″ HST die, that's another option (and the one I will probably use to cut lots of triangles from small scraps).
June recently blogged two ways she used when preparing units for a workshop.  The first, Missouri Star way,  is NOT recommended because it produces HST units with bias (stretchy!) edges on the outside.  It's worth checking out for your own projects if you are comfortable working with bias edges, but for our blocks, I'd like to keep away from bias edges to make it easier for the winners to use our blocks.  The second method bloggged by June, Lucy in the Sky-Quilting Board way, is essentially the same as using the Triangle paper (without the paper).
Remember, whatever technique you use, the HST units you make should measure 3 1/2 inches square (with NO BIAS EDGES) before you sew them into a 9-patch block.  The block should measure 9 1/2 inches square to finish at 9 inches.  AND all of our TRIANGLES must FACE the same way.
CATEGORIES AND TAGS
Blog posts with photos of blocks or discussion about the blocks should be created in the BLOCKS category.  Posts about mailing or receiving the blocks should be created in the SENT AND RECEIVED category.
Please Tag your blog posts with this tags:
scrappy triangles -for all blog posts about this month's block
INSPIRATION
First, two quilts, showing two different ways to use our blocks.  This one is made entirely of HST units.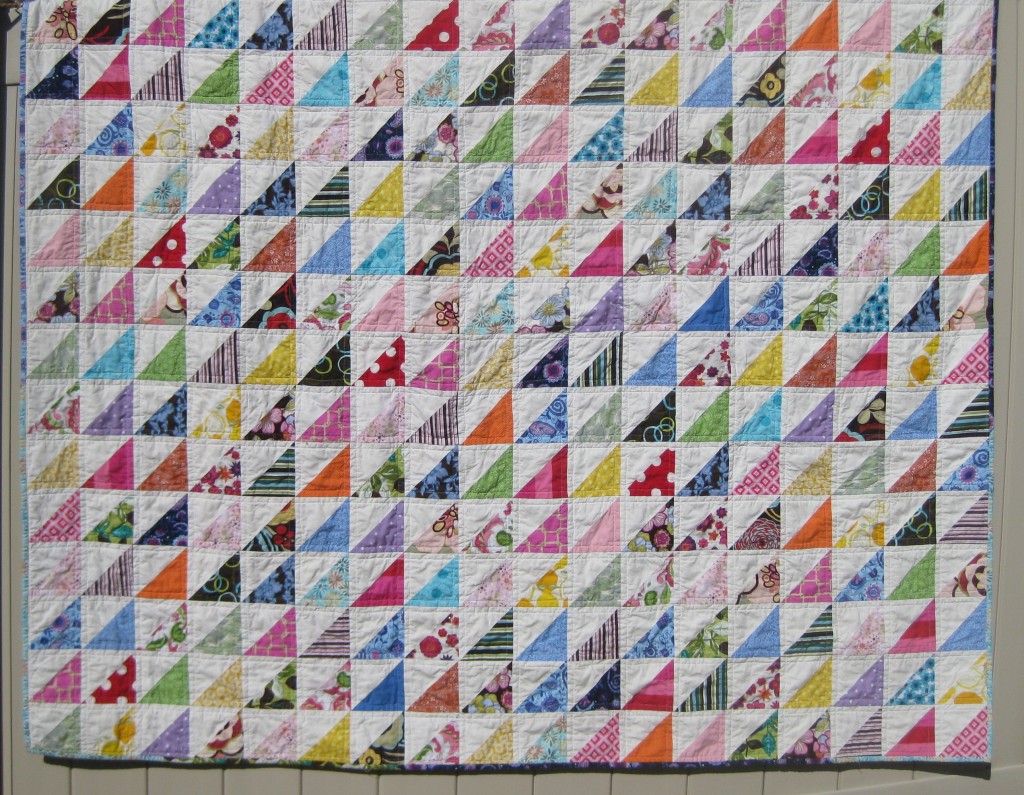 You can read more about it here:  http://www.squaresandtriangles.com/half-square-triangle-quilt-complete-59
In Beth's quilt, below, she used (much smaller) HST units as a border on her sampler quilt.   Her quilt is a great example of how a winner might use their blocks as a design element in a completely different kind of quilt.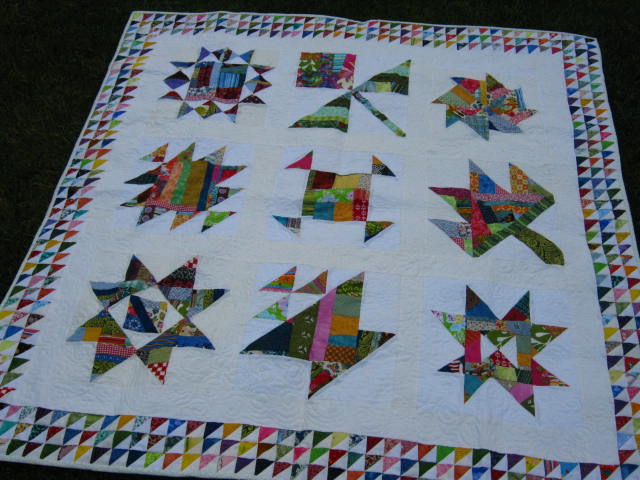 She blogged her quilt here:  http://www.lovelaughquilt.blogspot.com/2012/01/finish.html
And, our virtual quilt blocks, made from photos of blocks made by Bea, Christa, Debra, Kathy, Kristin, Raelene, Wendy and Wilma. You can see all the individual blocks in my Flickr photo set Scrappy Triangles.  Thank you to everyone who made and shared their blocks.
If you made some of these blocks, remember you still MUST post them separately in order for them to be added to the list and included as chances in the drawing.