"Cool Ladders" for August
In August,  we will be making the very traditional Jacob's Ladder block in two colors, cream and your choice from the COOL side of the color wheel (green, blue, purple).
This block was made by Andi.
I found a lot of directions for making the block on the web … unfortunately nearly all were for a 12 inch block.  Since our blocks should measure 9 1/2 inches (to finish at 9 inches when the winners sew them into a quilt), use the links as a reference for assembly and technique, BUT BE SURE TO USE THE CUTTING MEASUREMENTS SUPPLIED IN THIS MESSAGE.
FABRIC GUIDELINES
For your Jacob's Ladder blocks, the two fabrics should be:
COOL – solids, tone-on-tone (TOT) or multicolor prints that read as green, blue or purple
CREAM – solids or TOT fabrics that are off-white or cream
You may enter a maximum of 9 blocks for the block lotto drawing.  If you make multiple blocks, you may use the same CREAM fabric for all your blocks, but must use a unique COOL fabric for each block.
Those that have been around a while may remember that we made Double Wrench blocks in this colorway 7 years ago in August, 2005.  For more color inspiration, take a lotto at those blocks here.
 PATTERN LINKS AND CUTTING DIRECTIONS
For four-patch units, cut:
One COOL fabric strip, 2″ x 21″
One CREAM fabric strip, 2″ x 21″
Note: the strips are 1″ longer than necessary to allow for squaring up. If you are confident in measuring, cutting and sewing, then you can cut them 2" x 20."
For half-square triangle units, cut:
Two cool squares, 3-7/8″ x 3-7/8″ each
Two cream squares, 3-7/8″ x 3-7/8″ each
For how to put it together, you can find directions here:
Jacob's Ladder Quilt Block Pattern
If you like to learn by watching , I also found this video on youtube:
Again, remember that they are making a larger (12 inch) block in the video–so be sure to use the measurements above, nor the ones found at either of the links.
ORGANIZATION/ASSEMBLY TIPS

Be sure to double check that you have all your 4-patch and HST units oriented correctly before you sew the 9-patch layout together.  You should have a cool ladder with a path of white squares through it and a path of cool squares crossing the block diagonally in the other direction.
My personal approach is to carefully make the first block, with a visual reference in front of dyslexic me, checking and rechecking to make sure each unit is correctly oriented.  After the first block is made, I keep it next to the sewing machine and use it as a reference to layout every block that follows it.
CATEGORIES AND TAGS FOR BLOG POSTS
The TAG for ALL blog posts about this month's block is cool ladder.
As usual, when you are posting photos of your block(s), use the default category, blocks.  When you are posting about mailing/receiving the blocks, uncheck blocks and check the category, sent and received.
THE VIRTUAL QUILT AND SOME LAYOUT IDEAS

Something went terribly wrong with the colors when I assembled the virtual quilt from the photos from sneak peekers Helen, Kate, Linda, Margaret, Terry and me … and I ended up with a virtual quilt that Andy Warhol might have made.  When Jacob's Ladder blocks are arranged this way, it's known as Underground Railroad.
You can see the original (cropped) versions of the blocks in my flickr photoset Cool Colored Ladders.
If you sewed units of 4 blocks arranged like the 4 blocks below from Marilyn and then put them together in a straight set (edge to edge with no sashing), it's called Road to California.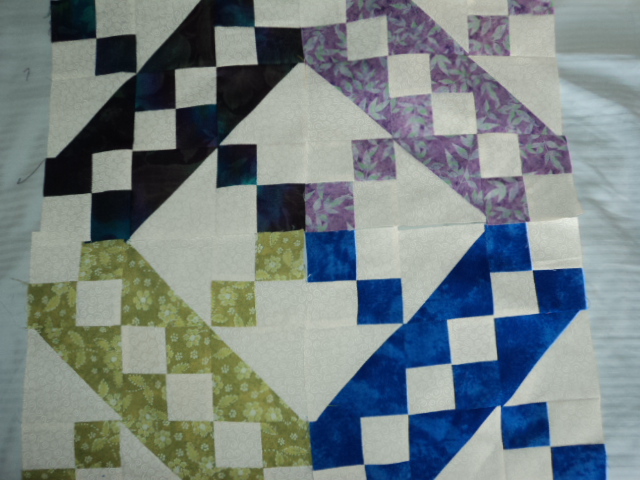 It might not be immediately obvious that this scrappy quilt is made from Jacob's Ladder blocks, but it is–it's a strippy arrangement with pieced columns between the columns of scrappy Jacob's Ladder blocks (from a swap) to form scrappy zig-zags.
I donated this to the long arm quilter's charity and, I confess, it's one of those charity quilts that I sometimes  wish I'd kept for myself. As far as I know, there is no historical name for this setting, but it really was a lot of fun.
For a look at more Jacob's Ladder setting ideas, one source is the Quilt Index.  Search for Jacobs Ladder and you's see blocks in straight sets, like my examples here, blocks with sashing, blocks with alternate blocks, blocks on point …