My first foray into Block Lotto
Month after month, I kept seeing amazing Block Lotto blocks over at Julie's blog, Joe Tulips Quilts, so I finally decided to ask about how I could get in on the action.  I am so glad I did!  I love these Split Star blocks, and to be honest, I probably never would have thought to make these on my own.  I don't use solids much, and I almost never use solid white, but I love the crisp look of these blocks!  I made seven, and would have made more if I hadn't run out of solid white.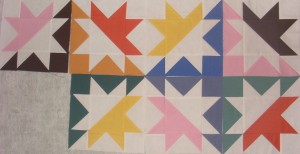 I look forward to making more blocks with you all in the months to come.  Thanks for letting me play along!
Erin at http://vesuviusmama.blogspot.com