My Block Lotto-Inspired Project
Last weekend, I had an idea to make some scrappy-with-a-lot-of-purple pillow shams for my big square European-style pillows to go with this scrappy-with-a-lot-of-purple quilt.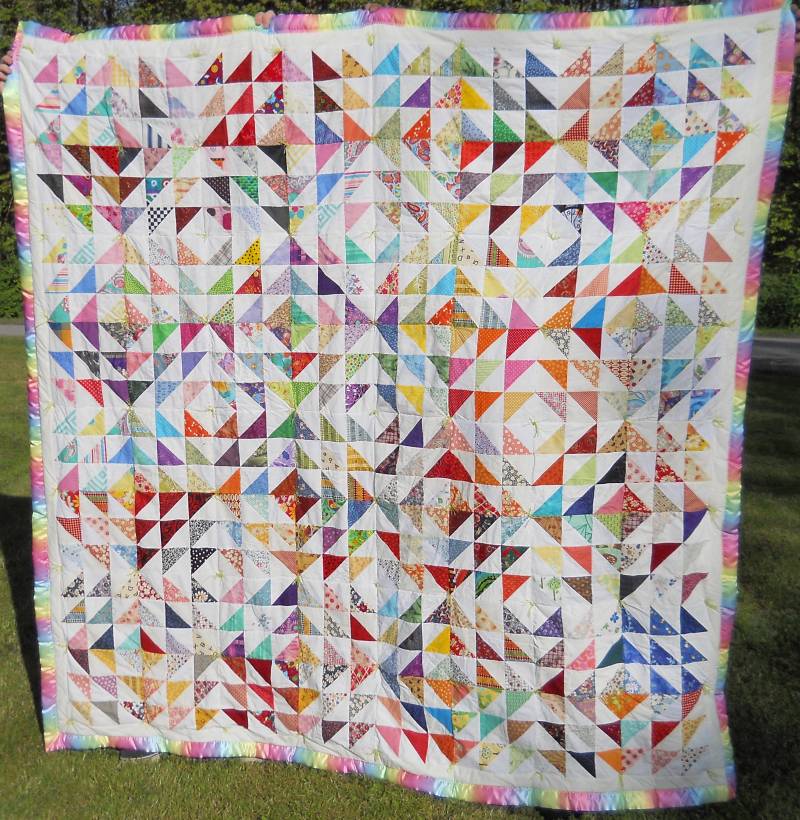 I thought to make something from half-square triangles (since there are a lot of those also in the Buckeye Beauty blocks of the quilt) and remembered this quilt that Karin made from our lotto blocks from the Scrappy Triangle blocks she won a year ago.
I loved her arrangement of the blocks.
So I did some math and figured out that if I made three inch half-square triangles, I would need 64 for a 24-inch square pillow front, or four 16-patches made from triangle square units.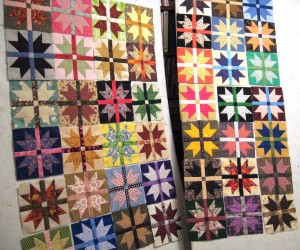 I decided to make them half purple and half from whatever I found in my scrap bins, with no regard for color or style.
I was remembering the photo that Julie recently posted of the scrappy blocks she won in December, and her comment about the variety of color and style.
And so my scrappy triangles are made from the last squares of favorite fabrics, fabrics so ugly that they've been stuck in my scraps bin for years and … everything in between. The proportion of colors was dictated by what I had in my scraps and the order I opened the little color-based bins.  (I opened the red and green ones last, so there's not much red nor green.)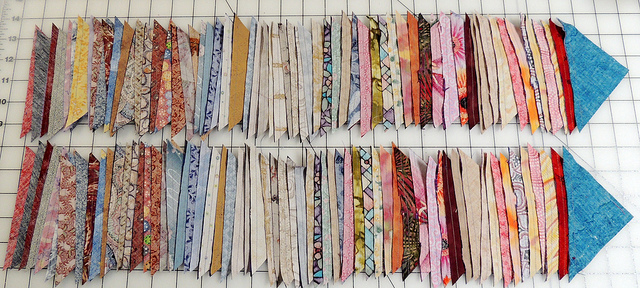 Much like the rules for the Block Lotto, I devised fabric guidelines for myself–I used only a handful of purple fabrics and repeated them in multiple HST units, but used a unique fabric for the other half of each pair.
I split the half square triangles in half, each with one half of the pairs I made from my squares.
I decided that the fabric placement in the pillows didn't need to match, though in both arrangements I put the darkest purples around the outside, to echo the dark purple border of the quilt.
Thank you, Karin and Julie for your influence.  I know that I'm going to like these.
This project was the thing I did because I was stuck thinking about where to go next on my current project. It was a lot of mindless meditative cutting and sewing and trimming of the triangle squares and then some playing/arranging them.
Once arranged, they were quickly sewn up into these 24 inch squares, ready to be quilted and sewn to the pillow backs.
Tonight I was thinking that lotto blocks make great pillows, too 🙂