One Lonely April Bird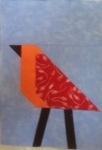 I'm really glad that I received the sneak peak and sewed my block before April 1. On April 2, my husband woke up and found water throughout most of the house…..fortunately insurance is paying for clean up but we did have to move out because of this: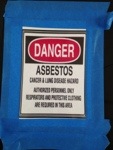 Even though the only thing ruined were the floors and kitchen cabinets, we will be dealing with contractors for a couple more weeks so I probably won't get to sew anymore.
Thank you for another wonderful block Sophie!