Banded Baskets – Because I Love Them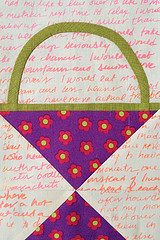 Love them or hate them, basket blocks seem to be almost as polarizing among quilters as Sun Bonnet Sue.  Because I love them, this month we are making this scrappy 6-by-9 inch (finished size) Banded Basket block using light/low volume/neutral fabrics for backgrounds, quilter's choice for the basket and a coordinating solid or tone-on-tone (TOT) for the band and handle.  The base of the basket can be made from the basket OR coordinating fabric.
The block pattern directions are here:
The pattern contains a few options for making the block, including a foundation pattern for paper piecing, but, in all cases, the basket handle is appliquéd to the background.  Check out this post on my blog for more info on how I like to make them:
Vines and Handles: A Closer Look at Bias Strip Appliqué
If you make multiple blocks, you may use the same background fabric for all your blocks and the same basket fabric for up to four blocks, enabling you to make them using the four-at-once, no-waste method for making them.  If you are unfamiliar with the method, you can find more info on that technique here:
You can also use the coordinating fabric in multiple blocks as long as the combination of the basket + coordinate fabrics in each block is unique.
As usual, you may make up to a maximum of 9 blocks for chances in the drawing at the end of the month.  As always, if you like, you can make more and donate them to the pot. 
 Tags
Add the tag Banded Basket to all your blog posts about this block. The category should be blocks when you are posting photos of your blocks to enter them in the drawing; use the category sent and received when you are posting about mailing or receiving blocks; and the category show and tell to share projects you make from this block (whether they are lotto blocks or blocks you make for yourself.
The Virtual Quilt
The blocks in this month's virtual quilt were made by sneak peekers, Jo,  Laurina, Peggy,  and me.